*Coach Helder may earn money or products from the companies mentioned in this post
Here Is My Unboxing Video For The Survival Axe:
When I am on the trail or out in the field, there are certain tools that not only make my life easier but are crucial in helping me to achieve my mission.
A couple of those tools that I feel are a must to have in my field bag are an axe and a saw. There are obviously quite a few more items that I would add to that list but for the purpose of this unboxing, let's just stick with those two.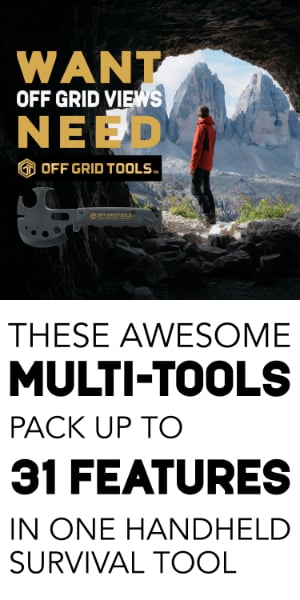 Whether I am building a fire, shelter or countless other pioneering projects, a trusty axe and a good hand saw are items that I cannot do without. I have a good collection of axes and saws. From my past experience, I had to bring multiple items out in the field if I were to get the versatility that I needed out of my tools. This approach took up additional space in my rucksack and let's not forget the added weight.
Recently, I was sent a Survival Axe by Off Grid Tools to test and put through my review process. This item was not only a survival axe but it contained a total of 31 tools. Once again, from my experience this could be of great benefit to the user or… It can be a glorified multi-tool that does a lot, but does none of it well.
When I agreed to test the Survival Axe, there were two main features that mattered the most to me on this tool. -Yes, you may have guessed it my now – The Axe And The Saw Blade. I figured that if those (2) features were good to go, then the other 29 features would just be a bit of redundancy in my gear; regardless of how they performed.
I took the Survival Axe out of its packaging and I must admit, I was impressed with the initial feel of the axe. It was ergonomically designed and felt very good in the hand. It has a durable feel and the axe was easy to sharpen and takes on a good edge.
The second aspect that I wanted to check was the actual saw. Once again, I was not let down. The thing that really sold me on this axe was the fact that the saw blade is interchangeable. It is a standard 6″ sawzall/ reciprocation saw blade.

That's right!
Whether I want to use a blade made by Bosch, DeWalt, Mikita, Milwaukee etc… The brand and blade choice was fully up to me! I no longer had to toss out my folding hand saw and/or have to be limited to proprietary, inferior, blade choices.
SPECS ON THE SURVIVAL AXE:
Hatchet blade
Hammer head
Nail Claw and pry bar
Replaceable 6 inch saw blade
Hex sockets 3/8, 7/16, 1/2, 9/16, 10mm, 11mm, 13mm, 15mm
Hardened steel glass breaker
Seat belt cutter
Weight 1.5lbs
Length: 11″
Lightweight glass filled nylon handle
Full Steel Tang
Nylon Sheath
Bottom Line:
If you are in the market for a good field axe, that doubles as a viable saw, take a look at this Survival Axe. For me, I was sold just on the two features that I detailed in this post. However, the other features that this tool contains are certainly nothing to just brush over. I know that the hammer aspect alone will save me countless time when setting up my shelter.
If you found this review helpful and decide to purchase a Survival Axe, please use the link below to help support this website:
(Use Coupon Code "HELDER10" At Checkout To Save An Additional 10% On Your Order!)
Thank you for viewing, I hope that you found this unboxing useful.
-Hg